NEW MAL-2C
Deluxe Motorcycle/ATV Lift Jack
| | |
| --- | --- |
| 2 1/2" collapsed (5 1/2" w/ adapter) | 16" upright maximum (19" w/adapter) |
| Swing out, lock down stabilizer bars | Rubber Padded Lifting surfaces |
| One Year Warranty | 4 Tie Down Hooks |
| 6 Position AUTO Safety Locks | Pedal For Release |
| Weighs 92 Lbs | Rugged engineering plastic casters |
| Turns On A Dime | Special Adapter Included |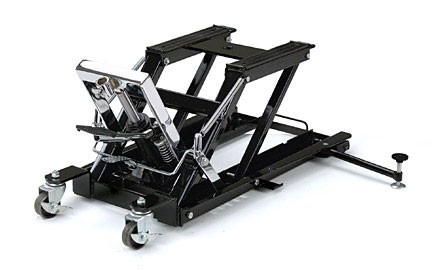 This is the newest, most feature packed Jack you can buy. It is by far the best (but not the cheapest) on the market. It has a massive 1500-pound lifting capacity, which will safely lift most every motorcycle, and ATV, including Harley Davidson, Honda, Kawasaki, Yamaha, Indian, BMW, Polaris, etc. If a high quality and feature packed jack is what you are looking for, then look no further.
This lift has many more features than the original ATVJ-3 (which we also carry) It has the lowest collapsed height (2 1/2") we've ever seen on any jack so you can get it under virtually any bike no matter how low. If your bike has been lowered or you're planning to lower it and are concerned about get it in the air, this jack is what you need.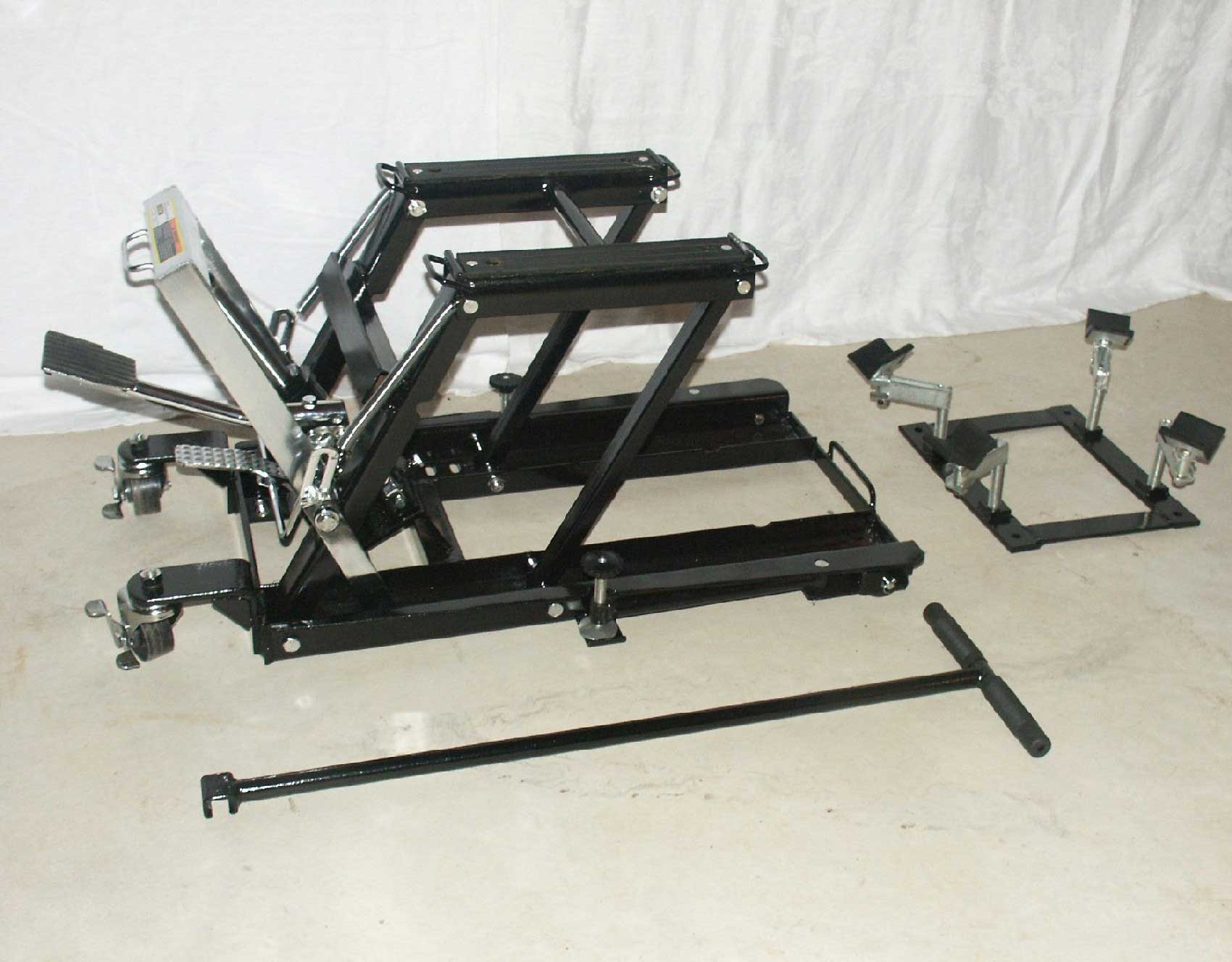 The collapsed height is 2 1/2" and the full upright height is 16" You can clean/ polish, repair or work on your bike with it up as high as 16 inches. Talk about comfortable and convenient! You can turn your bike on a dime thanks to the steel casters in front and easy roll rotating engineering plastic casters in the rear and then tuck it into the tightest of spots in your garage or shed. You can easily get your bike in and out of a tight spot you could never roll it into. For some that means the difference between indoor and outdoor storage.
It has six position safety locks that automatically engage and disengage when you raise and lower it, so they are always set by default and you don't even have to think about releasing them; it works automatically when you depress the pedal to lower it. This makes the jack extra safe and by default.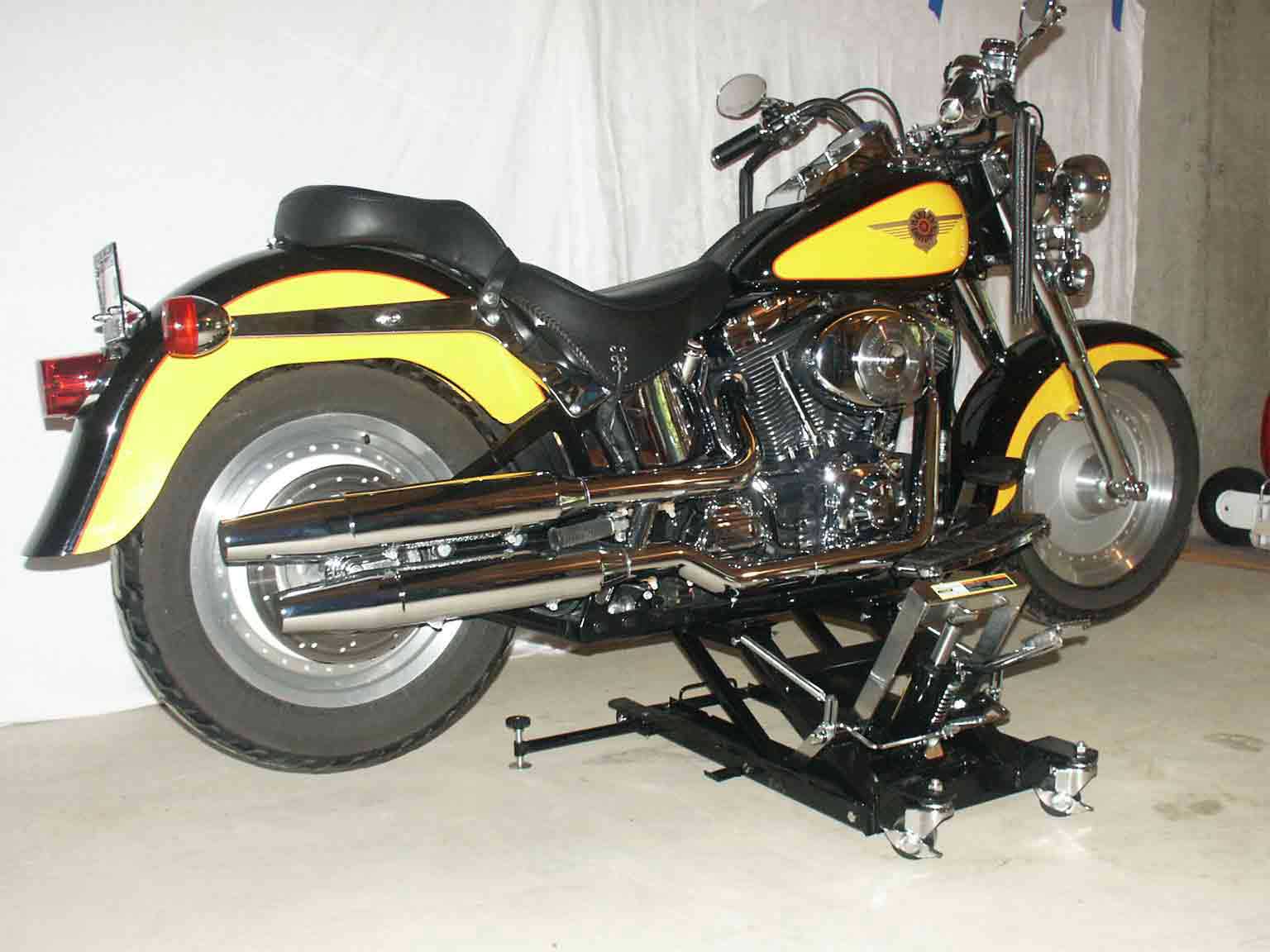 It has 4 tie down hooks allowing you to strap your bike to the jack for extra security. We recommend strapping your bike to the jack when you changing weight and balance - like removing a wheel. For everyday use you probably don't need to strap your bike to it. If you need a good set of ratchet straps please see ours by clicking here. You can add the set of 2 to the purchase of a jack for only $25.95.
It has a non-skid foot pump for hands free lifting and another non-skid foot pedal to lower it. The pedal for lowering makes it much easier than the others. It has rubber padded, extra wide, load surfaces that will protect the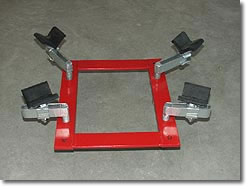 finish on your bikes frame. There's also a special handle that you can attach to easily pull the jack without bending over.
There are also Stabilizer Arms that swing out and screw down to a locked position giving the jack awesome stability. This is a unique feature.
The patent pending adapter is fully adjustable so for most every bike, you'll get it in the air. Most bikes don't but if yours has anything hanging below the frame that would get in the way of the lifting surfaces of the jack this adapter will get around it. Exhaust, oil pan, and fairings are the most common obstacles. The "V" shaped bunks are designed to reach up and grab the frame around the obstacle and lift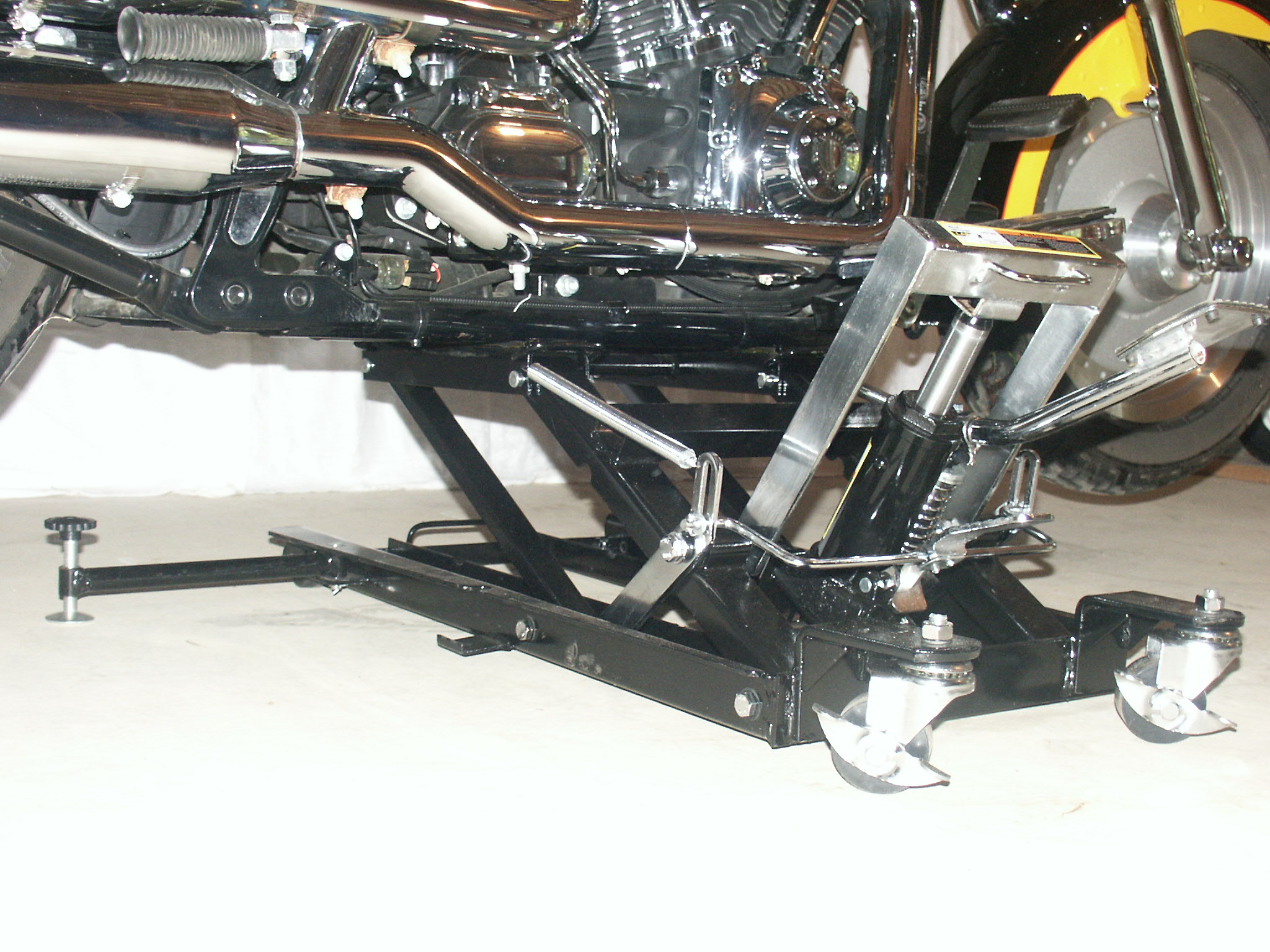 from the frame without putting pressure where it shouldn't be. The adapter is included at no additional charge.
This Jack weighs 92 pounds in the box! So if you have to lift it be careful! It's built to last with high quality powder coated steel and comes with a full 1-year manufacture's warranty. It's absolutely complete. Everything you now want, so you can have your bike in the air immediately, is right here in one box delivered directly to your door. Don't leave without placing your order! This jack will change your relationship with your bike.
Press Play To Start The Video
We also carry one other jacks made by Larin. The the ATVJ-3 which is "the original" and has fewer bells and whistles, but is a solid workhorse, and sells for only $175.55. To learn more about the ATVJ-3 Click Here
The Internet Special Price on this feature packed Jack is only $205.75 plus shipping.
Blow Out sale - $205.75
All MAL-2C orders received by September 30,2019 on sale for $205.75 Take advantage and order yours right NOW.