Larin ATVJ-3
Motorcycle/ATV Lift Jack

| | |
| --- | --- |
| 4 1/2" collapsed to 16" upright maximum | Non-Skid Foot Pump |
| Rubber Padded Lifting surfaces | One Year Warrantee |
| 4 Tie Down Hooks | 6 Position Safety Locks |
| Weighs 80 Lbs | Rugged Steel Casters |
| Turns On A Dime | |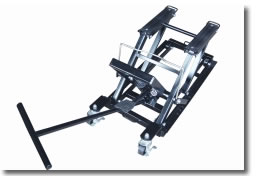 New black powdercoat now available.

This jack has a massive 1500 lb. lifting capacity, which will safely lift motorcycles and ATVs, including Harley Davidson and others. You can clean/ polish or work on your bike with it up as high as 16 inches. It has a collapsed height of 4 1/2". Talk about comfortable and convenient! You can turn your bike on a dime thanks to the steel casters and then tuck it into even the tightest spot in your garage or shed safe and out of harms way. You can easily get your bike in and out of a tight spot you could never roll it into. For some that means the difference between indoor and outdoor storage. Hey if you're a nut about keeping your bike nice and you know quality, you're going to absolutely love this jack. Every one of your riding buddies who sees it in use, in your garage will want one for him/herself. This is the best jack for the money anywhere on the market. Models of lesser quality sell for as much as $300.

Beware!! There is a lot of JUNK out there - Don't buy a cheap jack just to save a few dollars. The good feeling of saving a few dollars will fade away quickly only to be replaced with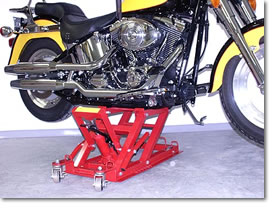 years of feeling bad because you bought a piece of junk. Larin has been in business for 15 years and stands firmly behind all their quality products. It's comforting to know that if you should ever need a part or have a warrantee claim Larin is there for you now and isn't going anywhere.
It has six position safety locks that prohibit the jack from coming down and are ideal to use when you are planning to leave the jack in the air for an extended period of time. A customer told us that he keeps his bike high in the air during hurricane season so if there should be a flood then his bike is up and safe from rising waters. Seriously! What ever your reason, the locks are a nice safety feature.
It has 4 tie-down hooks so you can strap the bike to the jack for extra security. We recommend you strap the bike to the jack when you are planning to change weight and balance. And example of this would be when you are going to take a wheel off. For just everyday use, such as rubbing, hugging and kissing your baby you probably don't need to strap it down. If you need a good set of ratchet straps please see ours by clicking here. You can add the set of 2 to the purchase of a jack for only $24.95.
It has a non-skid foot pump for hands free lifting. It has rubber padded, extra wide, load surfaces that will protect the finish on your bikes frame. It's built to last with high quality powder coated steel and comes with a full 1-year manufacture's warranty.
We have had one in use here for several years now and it's as good as it was the day it was new. And we use it for a LOT more than just lifting bikes and ATVs. We have purposely used and abused it and it won't quit.
One question we get a lot is if the Jack comes assembled. The answer is - it comes 98% assembled. You will need to put the bottle jack in place and secure it with one bolt. Then you attach the foot pump with one clevis pin. It takes about 3 minutes and anyone could do it. You'll have your bike up in the air in 5 minutes or less. This is the only way it can ship flat in a box or it would come completely assembled.
This jack is absolutely complete. Everything you NOW want, so you can have your bike in the air immediately, is right here in one box delivered directly to your door. Don't leave without placing YOUR order!
We also carry 1 other jack made by Larin, the MAL-2C The MAL-2C has many more features and a lower collapsed height of 2 1/2" and has the black and chrome finish and high impact polymer wheels.
The Internet Special Price on this tough Jack is usually $242.95 plus shipping and now on special for $175.55 This price is for on-line orders only. The regular advertised price is $242.95. That's a savings of $45!! Take advantage and order yours right NOW!!

Please note that the ATVJ-3's collapsed height is 4-1/2" so you will need at least this clearance under your bike frame. And if there are any obstructions hanging below the frame, you will need an adapter to safely lift your bike. Then consider the MAL-2C. The MAL-2C includes an adapter to work around oil pans and other engine items hanging below the frame.